Following the Observation, Assessment and Planning process, described in Part 1, means that you will have gathered an eclectic mix of evidence about a child which ultimately tells the story of their development and learning. For example:
Observations
Learning Stories
Photographs
Paintings, drawings, writing
Conversations and discussions with the child/children
Conversations and discussions with parents/family
What you record in your head (though it can't just be stored here)
Play experiences of the child/children
Feelings, emotion, well-being and behaviours of the child/children
This is your on-going assessment or Formative Assessment, described in the EYFS Statutory Duty as being 'an integral part of the learning and development process' (2.4, 2014) and in Development Matters (p.4, 2012) as being 'at the heart of effective early years practice'.
Summative Assessments are also at the heart of good practice; these are your stopping off points to think about what this eclectic gathering of information is telling you about the child's development  and progress.   Some helpful questions to ask yourself at these stopping off points are;
What have I noticed the child doing, saying and thinking that is different from before?
What do the Characteristics of Effective Learning tell me about the child's development and progress?
Is the child curious, inquisitive and motivated to explore and experiment in their play…asking questions and talking about what they are doing?
Are there signs of deep concentration, where they are not easily distracted? Facial expressions and body posture which show how focused they are?
Has speech, language and communication developed? How long are the conversations the children are having? Are they involved in 'serve and return' conversations?
Summative Assessments should be made at regular intervals.  More frequently for babies and toddlers as they grow and develop so rapidly, for example every 4 weeks. Older children may need a summative review every 6 to 8 weeks; whilst children with additional needs may need a review more often.   There are currently two points at which you are statutorily required to make a Summative Assessment;
Between the ages of 24 and 36 months – the Two Year Old Review
At the end of the Foundation Stage – the Early Years Foundation Stage Profile
Ofsted also want to see the 'progress all children make in their learning and development relative to their starting points and their readiness for the next stage of their education' (146. p.30, Inspection Handbook, 2015, 150068) and;
The provider must demonstrate how they will identify children's starting points and ensure that children make progress in their learning through effective planning, observation and assessment (25. p.7)
Track the experiences and development levels of a representative sample of children. Discuss the children's relevant starting points; look at assessment evidence and children's progress (53.p.14)
How the setting has tracked the progress children make (53. p.15)
The proportion of children who have made typical or better progress from their starting points, including disabled children, those with special educational needs and the most able (190. p.60 School Inspection Handbook, 2015, 150066)
Ofsted are also monitoring the impact of the Early Years Pupil Premium  (EYPP) on  progress and how  additional support is narrowing the attainment gap for these children
With this in mind it is essential that everyone involved in young children's development and learning (practitioners, teachers, leaders, co-ordinators etc);
Are aware of the progress children have made from their starting points and how this is tracked/mapped
And
Are able to discuss and show the developmental journey of the child, the progress they have made (or not), their transitions and the interventions and support that have been put in place
The Development Map™ has been created to support both your Formative and Summative Assessments as well as show the 'story' of children's development and progress. It is a 'tracking tool' which can be used in everyday practice for assessing children's learning and progress through the EYFS.  It views children's thinking, learning and growth in a holistic way so that adults can see the 'whole child' and understand the complex nature of their development and progress over a period of time.
Lucy's Development Map tells us a great deal about her learning journey and the progress she has made over a period of 9 months when something quite significant happened in her life.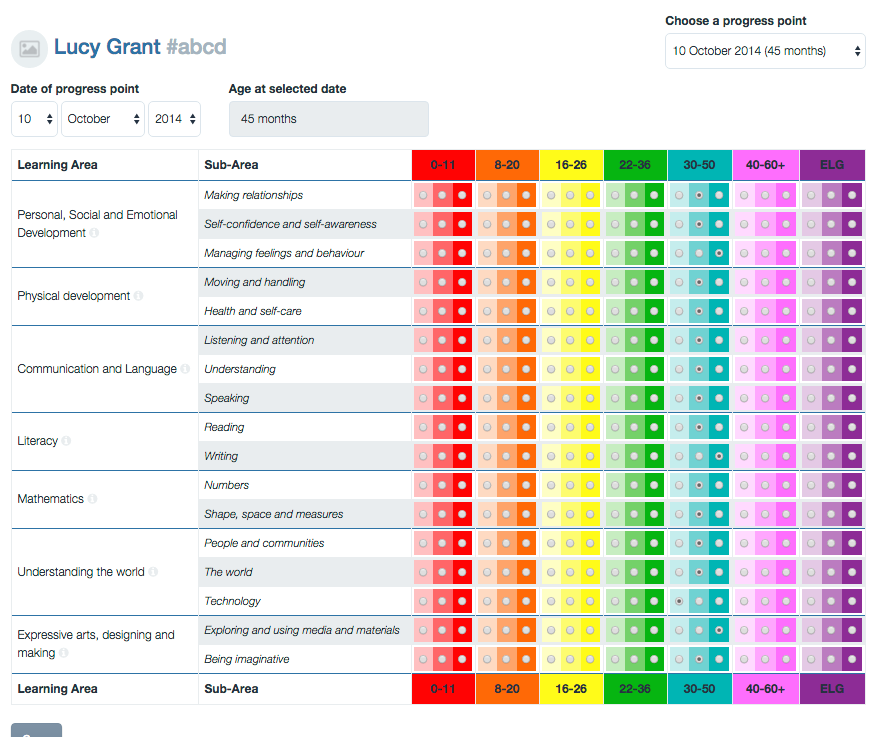 Through her observations of Lucy the key-worker had gathered a range of information and knowledge about her development and used this to make informed, professional judgements using the Development Map Summative Progress Board.
We can see Lucy's story in her Development Map and what it tells us about her progress over 9 months. There are 3 Summative Assessment points at 36, 39 and 45 months.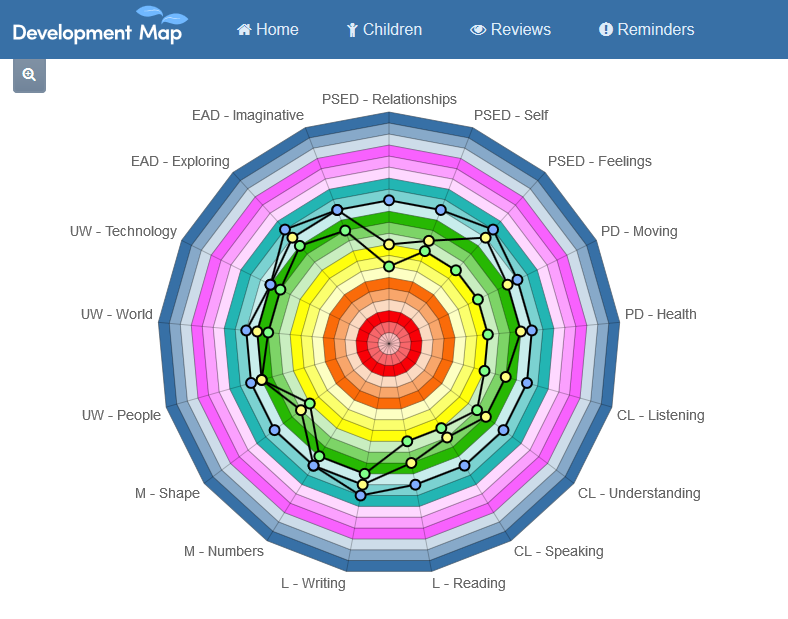 Lucy, at 36 months old (the green dot) , has quite a range of development across the ages and stages bands  from Developing 16- 26 for Making Relationships to Secure 22-36 in  Numbers, Writing, People and communities and Exploring and using media and materials.
We can see a significant spike[1] in her development in PSED at 36 and 39 months particularly in Making Relationships and Self-confidence and self-awareness, whilst she is making better progress in other areas of her development.    The story behind Lucy's spike is very common for many children her age; she is getting used to the arrival of her baby sister and has needed a lot of time, support and carefully planned next steps.  The nursery team focused on Lucy's interests in Technology, Numbers and Writing and used this to build her confidence, well-being and language development.  By 45 months she was back on track having made 6 steps of progress in 9 months in Making Relationships.
The key-worker and nursery team expressed how well they could 'see' Lucy as a person in the Development Map and the holistic nature of her development. This really helped them when they spoke to Lucy's mum and find out how things were going at home and to plan appropriate, meaningful, small next steps. Being able to make timely, informed and detailed summative assessments meant that they could identify where support was needed as soon as possible.
"Being able to talk about Lucy's developmental journey using the Development Map was so easy; it made us think about her learning holistically and in the wider context of her home and family. We could see where she needed help and used the things she was doing well at and was interested to support her next steps"

Lucy's Key-Worker
[1] I am not overly fond of the term spike but it does describe what the Development Map is telling us and we need to look out for these remembering that spikes can go either way inwards or outwards!